Index | Time Under Chaos? | Settings | The Ramblin' Queen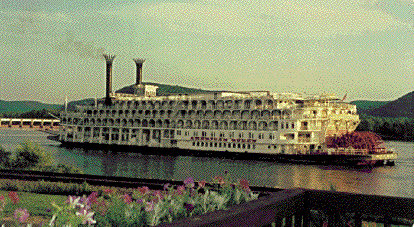 The Ramblin' Queen is the finest entertainment palace of its type, the divertissement for discerning gentlemen of which all others are but shadow. Its elegant atmosphere welcomes the most exclusive clientele from the nobility and royalty of a double-dozen shadows.
The musical theatre has singers and dancers of the finest caliber, the dining room features the exquisite meals prepared by the most skilled chefs and served with wines from what is rapidly becoming the greatest cellar outside the Castle. The game salons feature the most exciting gambling for stakes mundane and magical or just a relaxing game of billards. Each salon or bedroom on the multi-decked riverboat is individually decorated and all are soundproofed to ensure their client's privacy.
However, no trip to the Ramblin' Queen is complete without time spent among its courtesans, the most beautiful and elegant ladies from beyond the Golden Circle, all trained by the accomplished courtesans of Cornaro. From the mere pleasure of their company at dinner to more intimate pursuits, there is no fantasy that the women of Ramblin' Queen cannot satisfy for a price.
The Ramblin' Queen is owned and operated by Petra and a dedicated staff to insure everyone leaves with a smile on their face, including the frequently visiting Merlin. The ship docks at a private pier and boarding begins at sunset and lasts for one hour before the ships sets sail for the night, only returning in the early hours of the morning.